Rodrigo Mora
Primary tabs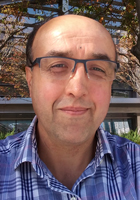 Research Interests
Human-centered design
Environmental Quality Integrated Systems Laboratory
Biography
Rodrigo Mora, PhD, P.Eng.

PhD, Building Systems Integration (Concordia University)
MEng, Building Science (Concordia University)
Civil Engineer, Building services and systems (Pontificia Universidad Javeriana)

Throughout his professional career, involving research and development for the planning and design of large residential developments and hospitals, as well as his academic research, he has been keen on developing tools and methods to help engineer built environments that are healthy, welcoming and pleasant.
Rodrigo is passionate about great architecture and human-centered design. As such his research focuses on improving knowledge on modelling and measuring techniques for predicting indoor environments and how these affect human health and improve human experiences in buildings. He uses this knowledge to investigate novel environmental systems that are responsive to the needs and goals of people, and in harmony with the environment.