Fitsum Tariku
Primary tabs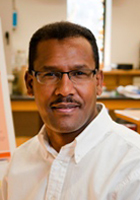 Research Interests
Building Science
Building Engineering
Building Energy Modelling
Biography
Fitsum Tariku, Ph.D.
Bachelor's Degree (Mechanical Engineering)
Master's Degree (Mechanical Engineering)
Ph.D. (Building Engineering)
Director
Canada Research Chair in Whole-Building Performance

Dr. Fitsum Tariku's experimental and computer modeling research program spans from materials and building envelope systems right through to whole-building performance analysis. Currently, he is working on material property measurements and characterizations; hygrothermal modeling and measurements of building envelope systems; and integrated analysis of whole-building performances. He aims to develop a comprehensive building optimization and decision-making tool that integrates whole-building simulation, risk assessment and cost-benefit analysis, with the objective of designing a building that is energy efficient, durable, economical, environmentally friendly, and provides comfortable and healthy indoor air quality to occupants.