Nancy Paris
Primary tabs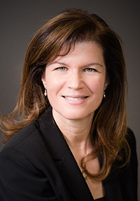 Research Interests
Product Development Process
Medical and Assistive Devices
Health Technology Research
Biography
Director
MAKE+ and Product and Process Applied Research Team

Nancy Paris is the Director of MAKE+ and Product and Process Applied Research Team (PART) at BCIT. Since 1996 Nancy has been responsible for the growth and management of a fifteen person multi-disciplinary team of researchers that conducts applied R&D in emerging and next generation product design in health technologies, energy, consumer electronics, and industrial products for clients in industry, academia, government and the community.

Ms. Paris is also an accomplished researcher and product developer with over twenty-five years of experience in developing proposals, grants, and contracts to conduct applied research projects and build applied research infrastructure. Her areas of expertise include the product development process, medical and assistive devices, and health technology research. She has received funding from private sector companies, NSERC, Western Economic Diversification and WorkSafeBC. She is also an inventor of the PROSTALAC Hip Replacement System which was licensed to Depuy of Johnson and Johnson in 1999. In 2009 Nancy was awarded the Advanced Technology Award from the Applied Science Technologist and Technicians of BC for leadership in the advancement of medical and assistive devices. In 2013 she was awarded the BCIT Employee Excellence Award for Applied Research.

Ms. Paris is also responsible for the development of a student project support service for bachelor of engineering and technology diploma programs at BCIT. A range of services are available to students including mentoring in project management, access to our multi-disciplinary research team for technical assistance and access to our advanced product development equipment. Nancy also supervises students from BCIT, other Canadian institutions and international institutions during internships and student projects. In 2009 Engineers Canada bestowed the designation of Fellow upon Ms. Paris in honour of exceptional contributions to the engineering profession in Canada.